Special Session 4
(12:00-13:30 UTC+9:00)
Importance of local and subregional geospatial networks in the Pacific Island Countries and Territories

This session highlights the important role of 3 different community led EO networks in supporting the Pacific Island Countries and Territories (PICTs) with their geospatial needs.
Session Moderator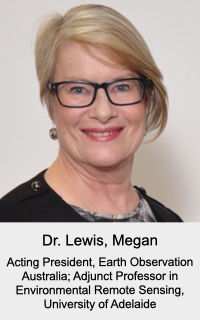 Dr. Lewis, Megan (AOGEO Coordination Board Co-Chair; Acting President, Earth Observation Australia; Adjunct Professor in Environmental Remote Sensing, University of Adelaide)
Panel Speaker
Dr. Cho, Sung-Jin (Blue Planet Asian Secretariat; Senior Researcher, Korea Maritime Institute)
Dr. Valérie Burtet-Sarramegna (Vice-President Research and International University of New-Caledonia)
Mr. Massenet, Jean (Operations Director at INSIGHT SAS)
Mr. Rafael Kargren (Board Member of Pacific Geospatial and Remote Sensing Council)

Special Session 5
(14:30-16:00 UTC+9:00)
Enhancing resilience for water-related disaster risks: Seeking opportunities for further collaboration

The negative impact of climate change has been painfully evident, e.g. in the catastrophe in Pakistan. Climate change continues to generate and further aggravate the cascading multi-hazards of water-related extreme events such as flood and drought in Asia-Oceania (AO) region. The need for providing context-specific innovations for resolving water problems was one of the key points agreed by 30 heads of state from the region and representatives of international organizations, during the 4th Asia-Pacific Water Summit (4APWS) held in April this year. AOGEO has a critical role to play to respond to the societal and political needs, as it has been providing Earth observations-based information and solutions for tackling the water related disasters. This session aims to identify the gaps and opportunities for collaboration in enhancing resilience for water-related disaster risks in the region by building on and scaling-up successes made by relevant activities in AOGEO/GEO. The session is designed to promote a dialogue between "providers" and "users" of EO data and solutions to identify concrete next steps for actions in enhancing regional resilience for water risks toward post-2025 and beyond.
Moderator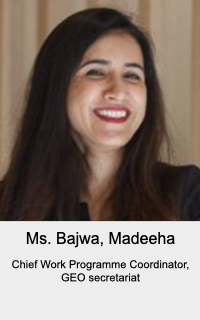 Ms. Bajwa, Madeeha (GEO Chief Work Programme Coordinator)
EO users
International policy-makers
Mr. Furuichi Hidenori (Director, International Affairs Office, River Planning Division, Water and Disaster Management Bureau, Ministry of Land, Infrastructure, Transport and Tourism (MLIT) of Japan)
Development Bank
Ms. Pokhrel, Neeta (Chief of Water Sector Group, Sustainable Development and Climate Change Department, ADB)
National Government
Dr. Selvarajah, Hemakanth (Chief Engineer, Hydrology and Disaster Management Division, Irrigation Department, Sri Lanka.)
EO providers
Dr. Oki Riko (Director of Earth Observation Research Center, Japan Aerospace Exploration Agency(JAXA))
Dr. Liew, Ju Neng (Associate Professor, Universiti Kebangsaan Malaysia)
Dr. Jia, Li (Co-lead, AOGEO Task Group 6: Drought Monitoring and Evaluation (DME))
Dr. Koike Toshio (Co-lead, AOGEO Task Group 1: Asia Water Cycle Initiative (AWCI))